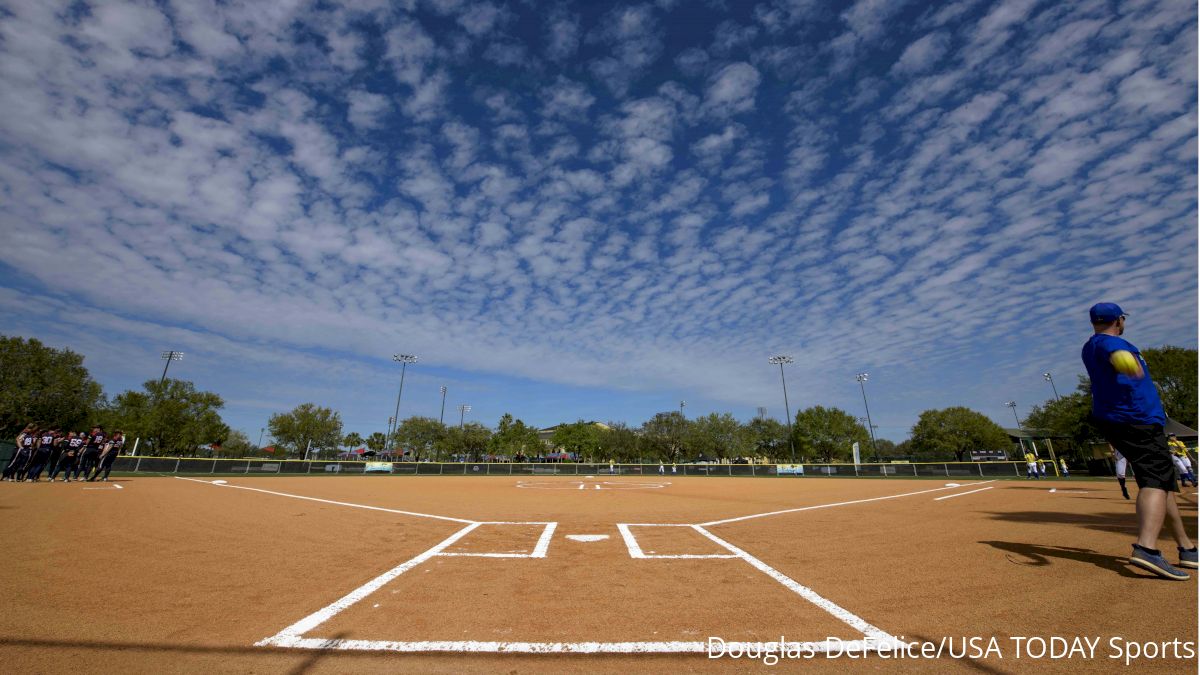 Reilly Wins 14th Straight Decision and Becomes Program's All-Time Leader in Innings Pitched
CLERMONT, Fla.—The 14th-ranked Babson College softball team racked up 21 hits in two games and extended its winning streak to five with a pair of victories on Sunday morning at Hancock Park. The Beavers defeated the University of Wisconsin-Eau Claire, 6-4, in their opener before finishing the sweep with an 11-3 five-inning victory over Plymouth State University.
Babson improves to 7-3 overall, Wisconsin-Eau Claire is 6-3 and Plymouth State is now 2-4 on the year.
GAME ONE: Babson 6, Wisconsin-Eau Claire 4
Junior Annie Quine (Santa Monica, Calif.) was 2-for-4 with a home run and two RBI and senior Samantha Smith(Hillsborough, N.J.) had two hits and drove in a pair of runs for the Green and White. Sophomore Tori Roche (Andover, Mass.) homered and junior Josephine Mares (Houston, Texas) scored twice in support of senior Ali Reilly (New Canaan, Conn.), who struck out six and allowed four runs over 6.2 innings to improve to 5-0 on the year.
Sophomore Gretchen Armeson (Chippewa Falls, Wis.) was 2-for-4 with a double, a homer and three runs batted in to lead the Blugolds. Classmate Sara Peka (Chanhassen, Minn.) shouldered the loss and fell to 2-3 on the season after giving up five runs in 5.1 innings.
Sophomore Victoria Casey (Emerson, N.J.) started the third inning with a double, Mares followed with a single and Smith plated both of them with a bloop single to centerfield for a 2-0 lead. Quine drilled a two-out, two-run homer to straightaway center in the fifth, and Roche smacked her second dinger of the year to make it 5-0 in the top of the sixth.
Arneson and senior Carlie Christensen (Ellsworth, Wis.) hit back-to-back homers to begin the bottom of the sixth to get Wisconsin-Eau Claire on the board, but sophomore Jacqueline Paul (Burlington, N.J.) drew a bases-loaded walk with one out in the seventh to extend the Beavers' margin back to 6-2. Reilly got two quick outs in the bottom of the seventh, but the Blugolds responded with consecutive singles and a two-run double by Arneson to pull within 6-4.
Babson sophomore Brooke Stock (Fort Lauderdale, Fla.) came on in relief and earned the one-out save, her first of the season, with the tying run at the plate.
GAME TWO: Babson 11, Plymouth State 3
Casey and Paul both drove in three runs and nine different players recorded at least one hit as Babson scored 11 unanswered runs to finish off Plymouth State in five innings. Paul, Stock, and sophomore Kayla Schinik (Watchung, N.J.) all finished with two hits apiece, and Stock improved to 2-2 on the year with 4.2 innings of shutout relief.
Senior Nina Murray (Saugus, Mass.) had two hits and junior Ashley Deyo (Dover, N.H.) drove in a pair of runs for the Panthers. Sophomore Caitlyn Miller (Lee, N.H.) fell to 1-3 on the year after giving up nine earned runs on 10 hits and three walks over 4.1 innings in the circle.
Plymouth State sent eight batters to the plate in the first inning and built a 3-0 lead behind a two-run double from Deyo and a pair of errors. The Green and answered with a two-run single by Paul in the bottom of the frame, and then pull even on a two-out RBI base hit by Stock in the last of the second.
The Beavers pushed across three runs in the fourth and then ended the game with a five-run fifth. Casey hit a bases-clearing double to the base of the wall in left-center and Smith ripped a two-run single to center three batters later to drive in Stock and Casey for the final margin.
Babson wraps up its trip on Tuesday when it takes on Juniata and Hope beginning at 9 a.m.
DOUBLEHEADER NOTES
• The Beavers are now 1-3 against Wisconsin-Eau Claire and 6-1 all-time against Plymouth State.
• Reilly won her 14th straight decision in the win over Wisconsin-Eau Claire and passed Babson Hall of Famer Colleen Kelly '04 as the program's all-time leader in innings pitched with 487.2. She also needs just one more win to tie another Babson Hall of Famer, Meghan Gaskell '06, for the most wins in program history at 50.
• The Green and White has recorded at least one extra-base hit in six consecutive games and nine of its 10 contests this season.
• Paul has a hit in eight consecutive games going back to March 3.
Article courtesy of FloSoftball.