Susquehanna Softball Realizes Dreams Through Friends Of Jaclyn
When the University of Florida won their first Women's College World Series title in 2014, hundreds of thousands of viewers all over the world noticed one detail: every girl on the team wore a sunflower in her hair.
The sunflowers represented Heather Braswell, a teenager with brain cancer whom the Florida softball team had "adopted." Braswell passed away just weeks before Florida's 2014 run at the championship and the sunflowers paid tribute to their honorary teammate. But this movement didn't start with Florida softball. The sunflowers were part of something much bigger.
Brad Posner, head softball coach at Susquehanna University in Selinsgrove, Pennsylvania knows a thing or two about what those special sunflowers.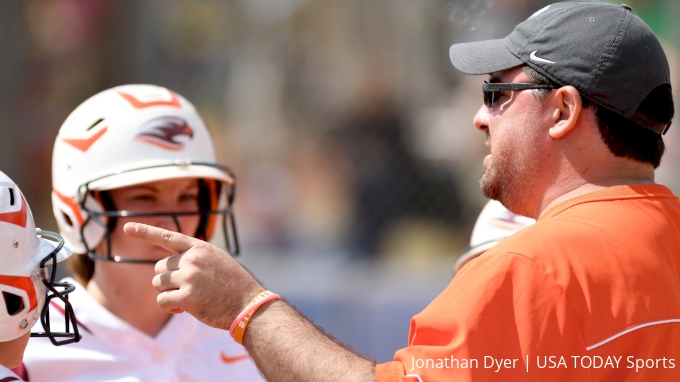 "I've been involved with Friends of Jaclyn since my days coaching in New York," he said. Friends of Jaclyn paired Florida with Heather Braswell who was diagnosed with brain cancer. They place children and/or teenagers with pediatric brain tumors and other forms of cancer with college athletic teams. As an assistant coach at SUNY Cortland, Posner's team adopted a kid. And when he moved on to UT Dallas, the Comets continued their relationship with Friends of Jaclyn.
Enriching the lives of Friends of Jaclyn children who are battling tumors or cancer is the mission of the organization but in return, they are improving the lives of softball players and teams all over the country. That's why Posner was so eager to get the Susquehanna team involved—but it took over two years. "
[There are]
lots of rules we have to get around, privacy rules," he explained. "But we were able to get through with one of the social workers at Geisinger, the main hospital here, and she connected us with the Rogers family. Olivia had been diagnosed with leukemia and was getting treatments."
The Susquehanna team welcomed twelve-year-old Rogers with open arms in fall 2017, Posner said, "and she's been a tremendous part of our team ever since."
In spring 2018, the team was headed to Florida for THE Spring Games, and they'd gotten so close to Rogers that they invited her to come along.
"A couple of our players went to visit her one of the times she was in the hospital," Posner said, "They half-jokingly, half-serious said, why don't you come to Florida with us?"
But of course, Posner acknowledged, the Rogers family couldn't swing the trip due to Olivia's medical bills. It was impossible. That didn't matter to his players, though—the Susquehanna team decided they were on a mission. Several tweets and a lot of hard work later, the team had raised $6,000 for Olivia to join them in Florida.
"It was absolutely amazing what they could accomplish with the use of social media networking and the effort they put into it—it was tremendous," Posner said. Olivia's time in Florida was "kind of like a dream:" she went to the ballparks, went to Disney, and hung out in the dugout with the Susquehanna girls. Even pro team Scrap Yard Fastpitch got involved, covering the cost of plane tickets so the Rogers' could get to Florida plus sending player Nerissa Meyers down to spend the week with Olivia and Susquehanna. But Olivia didn't wake up from the dream just yet. Agent Matthew Lunsford, who represents a few of Scrap Yard's players, stepped in.
"The agent for Monica Abbott is also the agent for Charlie Culberson of the
[Atlanta]
Braves. He got wind of it and got them involved," Posner said. The next thing Olivia knew, she was throwing out the first pitch at an Atlanta Braves spring training game. Not only did she spend time in Susquehanna softball's dugout, but she also got to spend time in the Atlanta Braves dugout and play catch with Culberson in the batting cage—all because Posner's players took action.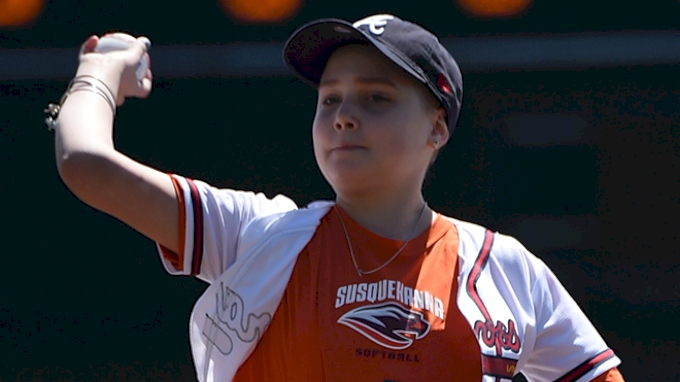 When Posner first brought up the idea of adopting a young cancer patient, his players were excited, but they had no idea what was coming. "
[They]
couldn't realize the overall effect it would have on them. Having Olivia around brings a different sense of perspective. The girls Snapchat with her every day, constantly… how can they complain about what they're going through when there's this twelve-year-old girl who's battling leukemia? She's got chemo and radiation going on in her day and these girls are overstressed about a test they have to take? It gives them a definite bigger perspective of what somebody is going through and to be grateful for what they have."
That's one of the many benefits of Friends of Jaclyn. The organization was established in 2005, aiming to let children battling pediatric brain tumors "live in the moment… play in the moment." Jaclyn Murphy was diagnosed with a malignant brain tumor in 2004 and was "adopted" by a college lacrosse team, becoming an honorary team member. Living out their own inspirational movie, the team had a perfect season and won their first NCAA DIII National Championship in 64 years, all because of Murphy's inspiring resiliency and joy for life. Now her family's organization focuses on helping as many children as they can, from Heather Braswell to Olivia Rogers.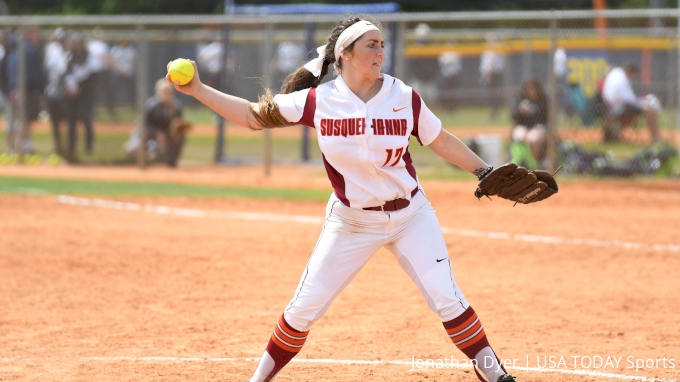 For people who are interested in partnering with Friends of Jaclyn, there are numerous opportunities available. "The tricky part about dealing with kids in cancer is there's no money in the cause. It costs more than it makes," Posner explained. "Money is always a good thing, but
[also]
people just being involved. Kids need support; kids need love and friendship."
In addition to collegiate teams, the organization is spreading their wings partnering with high school sports teams.
"Dennis always says that it's important to raise money for cancer research to help save kids' lives," Posner said about Friends of Jaclyn's founder, adding, "and it totally is." But the organization's true mission is something that many people overlook: improving the quality of life for pediatric cancer patients. When a child's days are filled with nothing but treatments, medicines, and doctor's appointments, they don't have much to look forward to. That's where Friends of Jaclyn comes in. What can be measured dollars can't be measured in smiles and lives directly impacted by Friends of Jaclyn. From softball teams to MLB players to the children of Friends of Jaclyn, the memories and experiences provided through this foundation are priceless.
For more information about the Friends of Jaclyn Foundation and how you can get involved, click here.