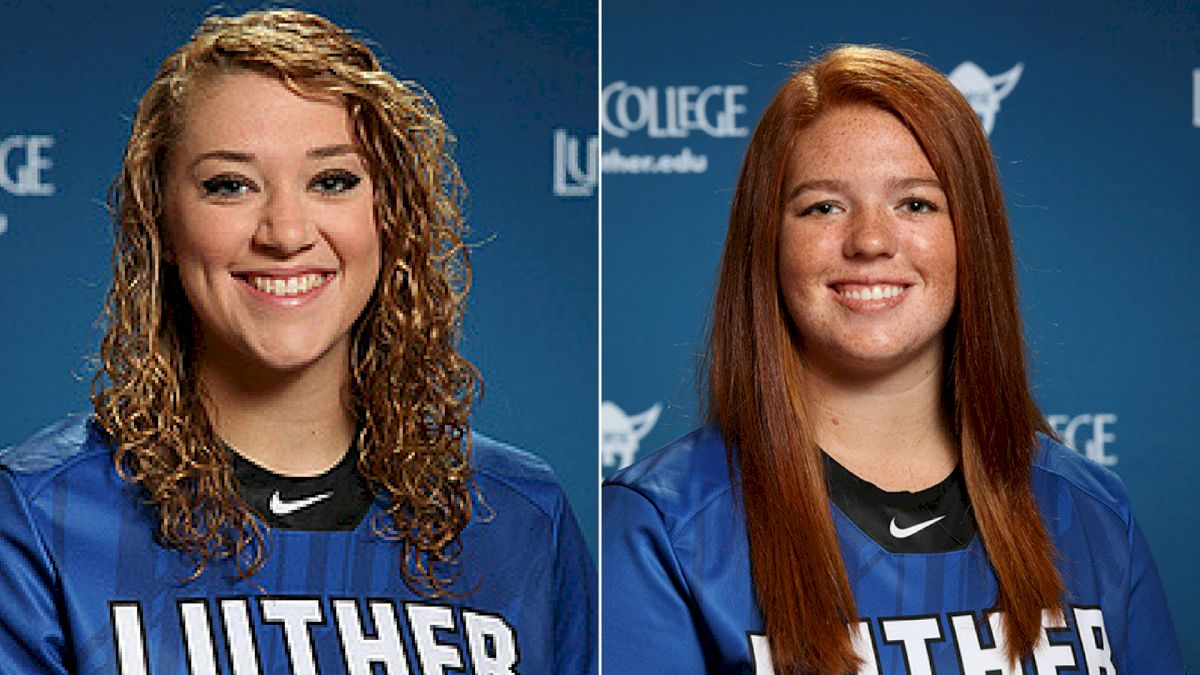 By J. Daniel Pearson
---
They couldn't be more different. A freshman and a junior. A newcomer to the college game and a returning All-American. A psychology major and a management major who is minoring in studio art.
One is a power pitcher, the other relies on pitch location. One is reserved and a serious student of the game and the other has a bubbly personality who occasionally likes to joke around to keep teammates loose.
But for as different as their personalities are, Samantha Bratland and Courtney Cooper consider themselves the best of friends and are two of the main reasons Luther College is off to a 9-1 start and ranked ninth nationally in the latest National Fastpitch Coaches Association Division III Poll.
Bratland, a junior, earned third-team All-America honors last season, posting a 22-4 record with a 1.24 ERA. The power pitcher of the duo, Bratland struck out 141 batters in 148 innings last year and is off to a 4-1 start this season.
Cooper, the newcomer, is 4-0 this season with a stellar 0.61 ERA in 23 innings of work.
"We're just so close," Cooper said. "When I first got here, I realized that I could learn so much from Samantha. I respected everything she has already accomplished here and also appreciated her willingness to share everything she knows. She's an incredibly hard worker and a great leader of our team."
Head coach Ranae Hartl says the two could not be more different but still manage to complement each other.
"Samantha is the veteran and she's all business," Hartl says about her junior ace. "Courtney is totally different. She always has a smile on her face and an incredible enthusiasm about her. But what's really neat about their personalities is that they not only feed off of each other but they sometimes assume each other's personality."
Both players say that their close-knit relationship with the third pitcher on the team, Natalie Stockman (0.00 ERA in two appearances), along with catchers Kelsey Rox, Addy Pender, and Kaeli Kovarik, has been a key to the team's early success.
"Our pitchers and catchers are always together and not just during practices," Bratland said. "It seems we're always together whether we are at offseason workouts or just hanging around together. We got to know each other as individuals and we've become really close. I think that has given us great chemistry as a team."
Both Bratland and Cooper also agree the team's success is also due in large part to Hartl and her staff. Now in her 17th year, Hartl has recorded an impressive 522-172 record heading into this week's spring trip to Florida. Associate head coach Teri Olson has been with Hartl for 13 of those seasons, while pitching coach Tracy Hjelle has been in her current position for 24 seasons.
"I started going to Luther College softball camps when I was in third grade," Bratland said. "I grew up in this program and Coach Hartl and her staff were here during that whole time. There's no question this is where I was going to sign."
It's that type of stability and sense of family that both Bratland and Cooper says inspires the team.
"I knew when I was going through the recruiting process that Luther was the right place for me," Cooper added. "Our coaching staff is awesome and Our pitching coach made the transition from high school to college softball a lot easier on me."
Article courtesy of FloSoftball.